zHappenings
This web site is made possible through the generosity of Integrated Technical Solutions (ITS). Thank you ITS, we truly appreciate your support.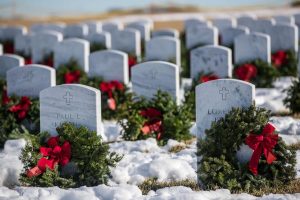 Troop 23 Honors Fallen Heroes with Wreath Laying Ceremony
This holiday season, Troop 23 will continue its longstanding tradition of honoring the men and women who have served in our military. To commemorate their dedication to the defense of our country and our way of life, Troop 23 Scouts will dress the graves of nearly 50 veterans at the Wheaton Cemetery and the St. Michael Cemetery.  As Scouts sold wreaths and holiday greens during their annual fundraiser, customers were offered the opportunity to purchase a wreath for a veteran's grave and many opted to do so.  We are truly grateful for our community's support in making this happen.
Where: Wheaton Cemetery and St Michael's Cemetery 1209 and 1109 Warrenville Road, Wheaton, Ill.
When:  Saturday, December 7, 2019 at 1pm
Details:
Troop 23 Scouts will dress the graves of nearly 50 veterans in a meaningful demonstration of the the Troop's patriotism and commitment to the community.
Troop 23 Scoutmaster and Eagle Scout Jeff Jeffers will commemorate these efforts and further Scouts' understanding of the activity with brief remarks.
Troop 23 Chaplin and Chaplin's Aide will lead a prayer for all those who have fallen in service to our Country.
Boy Scout Bugler concludes ceremony with the sounding Taps.