Summer Camp Health Forms
This provides information regarding the Health Forms that will be required for Summer Camp 2020.
Aggressive steps will be taken to ensure the health and wellness of camp participants. CFL has asked that individuals at high-risk of complications from Covid-19 consider staying home this year. Families should carefully consider whether or not camp is a fit for them this year by reviewing the "High Risk Individuals" descriptions provided here: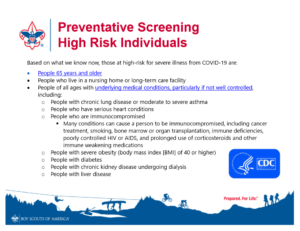 .
In addition, all Scouts and Adults will be asked to take additional precautions in the 14 days prior to camp as your decisions will also affect the health of our entire group attending camp. Please refrain from participating in large-group activities; and, continue with recommended health practices of mask wearing and frequent hand-washing. Upon departure for camp, parents and leaders will be asked sign an affidavit attesting to the following:
(1)     They have been symptom free for the 14 days prior to camp.
(2)    They have NOT been in contact with anyone who has COVID-19 or is otherwise sick.
(3)    They themselves and anyone they have been in close contact with have NOT traveled on a cruise ship, internationally, or to an area with a known communicable disease outbreak in the last 14 days.
Campers and adult leaders who cannot attest with confidence to those statements will not be allowed to attend camp.
All scouts and adults attending camp must complete a new Annual Health and Medical Record Part A and Part B. The dated parent and scout signatures on the forms must be July 6, 2020 or later. These forms must be turned in with a current copy of both sides of your Health Insurance Card. We are asking families to turn in 3 copies of each form and three copies of both sides of your Health Insurance Card. We're also asking that families hold a copy of their completed forms and insurance cards. (In the past, we have needed to obtain forms from families at home while Scouts were at camp so having a copy at home is definitely helpful.)
All scouts and adults staying at camp for three or more overnights must have Part C of the Annual Health and Medical Record on file; or an equivalent. Unlike in past years when Part Cs were valid for only one year; for 2020, Part Cs need only be dated on or after 2/1/19. Based on the most recent list of Scouts and adults planning to attending camp, we have provided by email the current status of Part Cs on file with Troop 23. If you need that list resent, please contact our Membership/Forms Coordinator. CFL will be accepting a variety of options as alternatives to the traditional Part Cs for Scouts and leaders who do not currently have a Part C dated on or after 2/1/19. Please see the slide below for acceptable alternatives to the traditional Part C.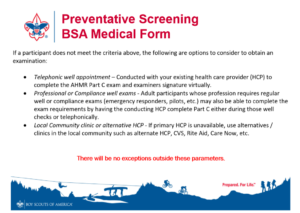 Troop 23 will be collecting health forms on Monday, July 6, from 7PM-8PM outside at First Presbyterian Church. We are asking parents to turn in forms in person so that any missing signatures or questions can be addressed at that time. We'll be managing hundreds of pages of forms so your help in minimizing follow-up is tremendously appreciated.  Additional details regarding Health Form Turn-In Day will be provided in Hot News.